Harmful contaminants affect our individual lives in many ways, and millions suffer as a direct result.
AquiSense Technologies is a leader in UV-C LED disinfection. We manufacture and develop laboratory research tools in addition to air, water, and surface treatment products.
Our PearlAero Micro is the world's smallest UV disinfection system for air treatment. The Micro offers disinfection through UV-C LEDs and a patented flow cell design. PearlAero Micro is designed to be integrated into point-of-use systems and processes.
The PearlAero is a new platform of the air treatment
Whether in remote communities, in healthcare facilities, industrial processes, or even in aircraft, the solution lies in highly portable, robust, and versatile technology.
Disinfection through chlorine and conventional UV lamps utilize potentially harmful materials. All of our products use UV-C LEDs or deep spectrum Ultraviolet LEDs to disinfect water, air, and surfaces. We use LEDs to prevent added hazards to our customer's environment. ​
We deliver real-world solutions to real-world problems.
We operate as a business to business company supplying components to laboratories, Original Equipment Manufacturers (OEMs), and distributors within the manufacturing space.
Airborne diseases and bacteria can wreak havoc on delicate systems or sterile environments.
The UV-C LED system PearlAero provides air disinfection through precise UV disinfection
and an innovative LED reactor design.
The UV-C LED array provides disinfection for HVAC components, extending the life for air filters, activated carbon, ozone traps, and titanium dioxide.
The PearlAero provides an instant on/off, mercury free, UV-C LED disinfection platform solution that can be engineered to suit specific application needs. The small size of the LEDs allows for a variety of new applications unseen in UV air disinfection.
​
HEPA filters offer 99.97% filtration with particles and organisms bigger than 0.3 microns. The UV-C LED light used in the PearlAero inactivates pathogens regardless of their size.
Wavelength selection and customized UV-C LED array structures allow for targeted inactivation of specific pathogens. Coupling HEPA filter systems with the PearlAero as an added treatment step provides true airborne infection control and peace of mind.
The PearlAero offers flow rates of 0.4 CFM and below with larger systems coming in the future.
The PearlAero has many applications and can be used in a range of industries and settings, including:
Small confined rooms
Recirculating air-flow
Small research rooms
Food & beverage process rooms
Humidifiers
Odor control on fume hood
Evaporated water mist
Post HEPA filter "polishing".
Aero
Technology Application Map
This chart illustrates the general range of wavelength and power that LED devices are applied into integrated products for specific applications.
Integration of LEDs for Maximum System Efficiency
AquiSense Technologies have developed unique solutions to real world problems in water, air and surface disinfection. All products use highly efficient UV-C LEDs that are ideal for purification.
To achieve maximum system efficiency, we take a holistic design approach to the integration of UV-C LEDs into UV systems.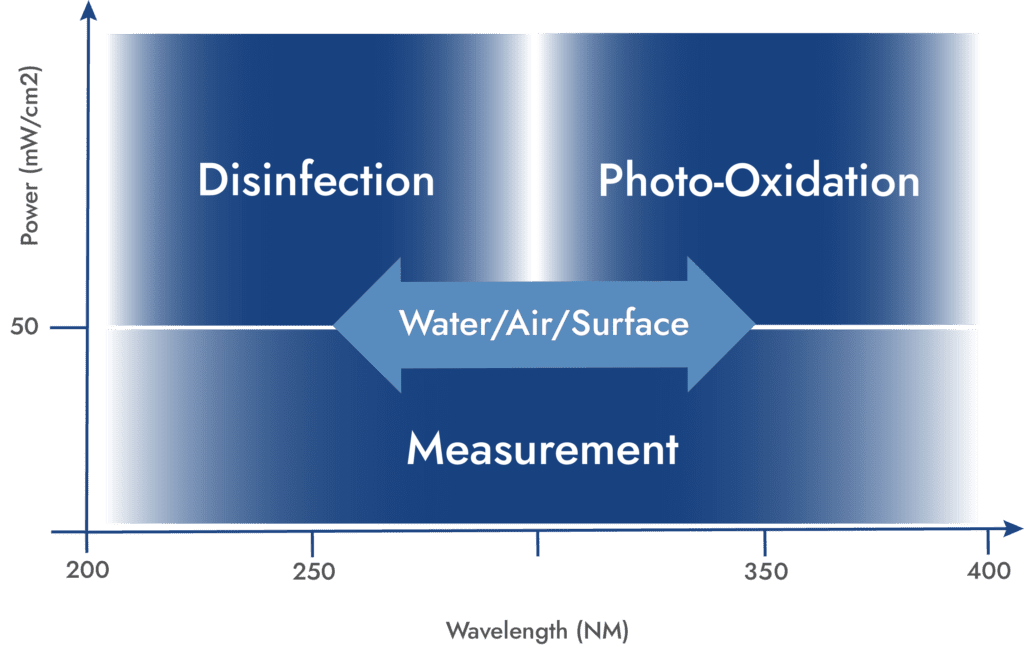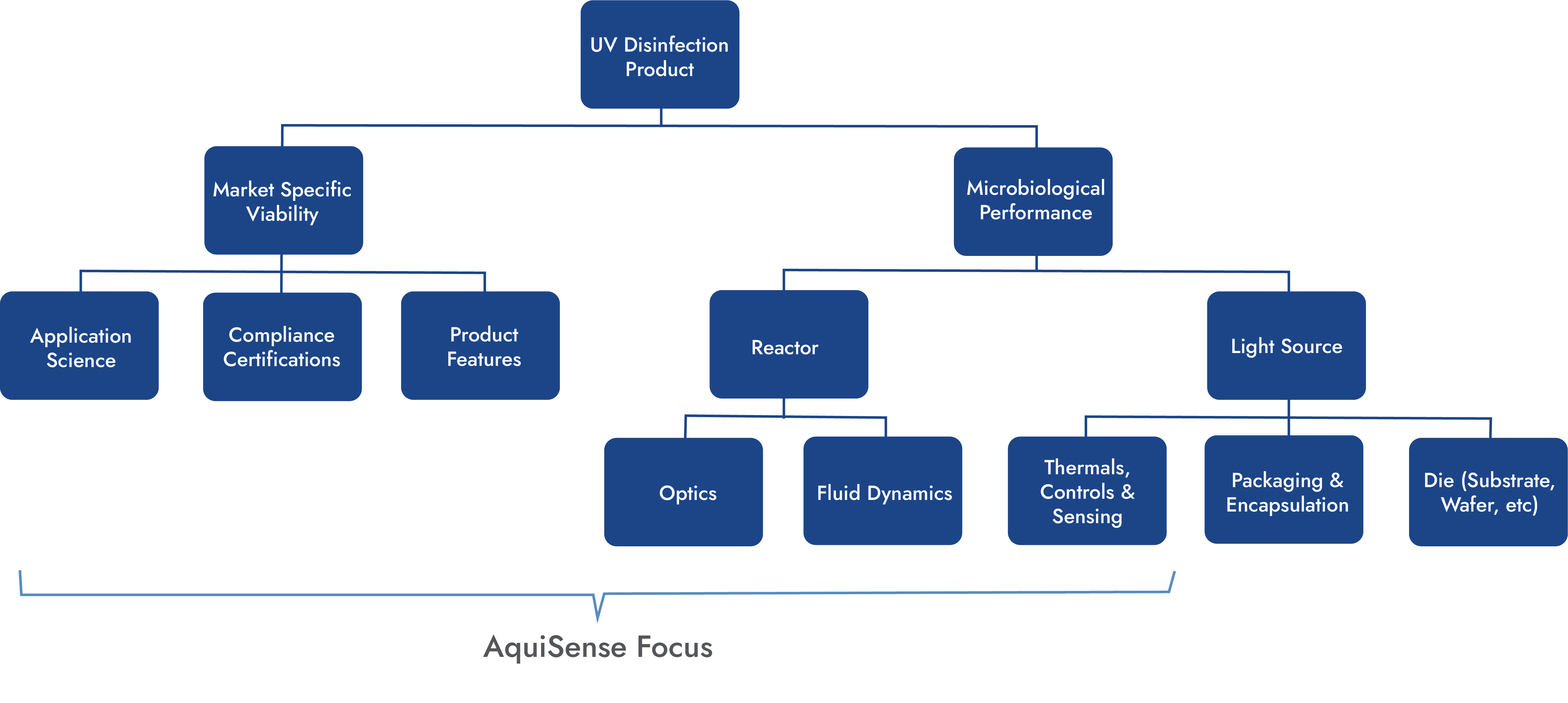 The PearlAqua Deca has been certified by a 3rd party laboratory in accordance with US EPA drinking water guidelines.
Our holistic design approach provides simple plug-and-play usability, low maintenance and unique benefits beyond current state of the art UV-C LEDs alone. Combining the most efficient LEDs available with our extremely efficient reactor design provides systems that lead the UV disinfection industry.
​
Our PearlLab™ and PearlAqua™ product ranges provide real-world solutions for water and surfaces.
Learn more at the product specific pages